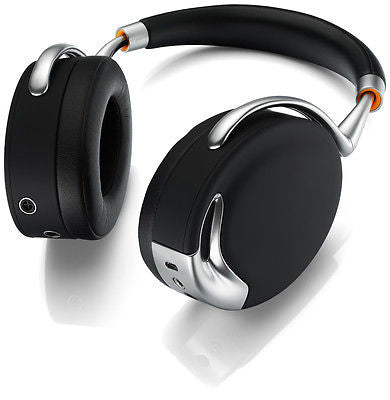 Parrot Zik Wireless Bluetooth Noise Canceling Headphones by Stark
By Parrot
Sorry, this product is sold out!
Parrot Zik Wireless Bluetooth Noise Canceling Headphones by Stark
WiredForLess is proud to introduce Parrot Zik, the world's most advanced wireless headphones.
Features
Active noise cancellation with 4 microphones for best in class 25db noise reduction
Bluetooth handsfree connectivity and microphone
Bone conduction sensor with double microphones give calls amazing clarity
Motion detector automatically pauses / starts your music
Parrot Concert Hall Effect recreates stunning lifelike sound
Details
WiredForLess is proud to introduce Parrot Zik, the world's most advanced wireless headphones.Active Noise CancellationWith a total of four microphones, Parrot ZIKÕs ANC technology reduces noise up to 25 dB.Bluetooth Handsfree Connectivity and MicrophoneWith a bone conduction sensor (3) and a double microphone, Parrot ZikÕs noise suppression system gives your calls amazing clarity.Motion DetectorTaking Zik off your ears automatically pauses the music so you'll never miss a beat.Parrot Concert Hall EffectZik recreates beautiful lifelike sound. Alter the acoustics and sound-space through the Parrot App.Simple PairingJust touch your phone to left ear cup (5) to pair effortlessly with NFC devices.Don't Stop the MusicEven with a dead battery, Zik plays on with the jack cable included.Reviews"Best Bluetooth Headphones Ever? In our listening test of the Zik, we felt the sound quality was excellent" Mashable"We instantly knew this is something that will cater to the needs to hardcore audio buffs" Phone Arena"The Zik's loaded with goodies -- Bluetooth connectivity, active-noise cancellation, NFC and touch controls on either earcup, not to mention its jawbone and "presence" sensors among a few other notable tidbits like its DSP-enabling app that adds a "concert-type" vibe to its sound" Engadget
What's in the Box
1 Micro USB cable for charging and updating1 line in cable 3,5 mm1 Li-lon battery 800mAh1 Quick-start guide1 Protective pouch
Technical Specs
Warranty
This product is covered by a 1 year parts and labor warranty provided by the manufactuer. Normal wear and tear as well as customer abuse are not covered by this warranty. Contact the manufacturer in the event of a warranty claim.
Video